Mike Rose was sporting his new Medal of Honor.
He is such a sweet man... a bad ass, but a sweet man.
--Ron Warren
Pictured above is Captain Gary "Mike" Rose. He is America's most recent recipient of The Congressional Medal of Honor. Here are Capt. Rose's other awards.
Rose's military awards include the Distinguished Service Cross, the Bronze Star Medal with one oak leaf cluster and "V" device, the Purple Heart with two oak leaf clusters, the Meritorious Service Medal, the Air Medal, the Army Achievement Medal, the Good Conduct Medal with two knots, National Defense Medal, Vietnam Campaign with star, Presidential Unit Citation (MAC SOG), Vietnam Civic Action Honor Medal, Vietnam Campaign Medal, Vietnamese Cross of Gallantry Unit Citation – with Palm Combat Medical Badge, Special Forces Tab, U.S. Army Parachute Badge, Thai Army Parachute Badge, Vietnam Parachute Badge, and several service ribbons.
If you never read another item on Comx Box, at the least, please click on the link provided below to read the near, unbelievable things that Capt. Rose did that caused him to win America's highest award for valor. This photo is courtesy of Ron Warren who is a friend of Capt. Rose and photographed him at a recent awards ceremony that honored a man who put his life at incredible risk to save others.
Here is Capt. Rose being awarded the Congressional Medal of Honor by
(Army photo by C. Todd Lopez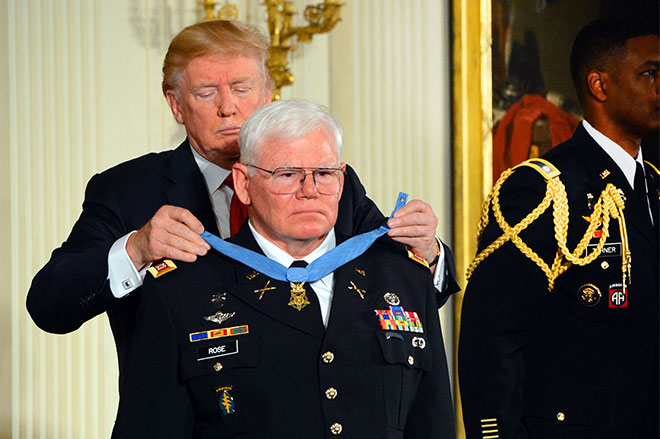 "Your will to endure, your love for your fellow Soldier, your devotion to your country inspires us all. I have to tell you, that is something. Nations are formed out of the strength and patriotism that lives in the hearts of our heroes."
White House Ceremony, October 23, 2017
-From Jordan Smith-



"Mikey" at the Vet's From Lady Anne Wehrley



One More From Jordan